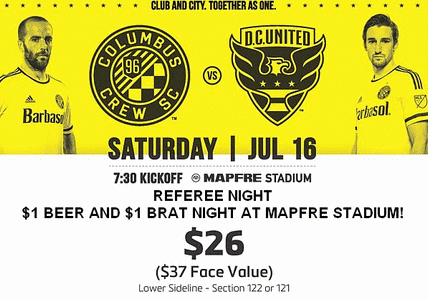 Direct Link: (CLICK HERE)
Nick White, Sr. Group Sales Manager - Columbus Crew SC
614.447.4153 - direct; 513.319.3730 - mobile; email: nwhite@columbuscrewsc.com

---
ODP Tournament - Dayton, Ohio
ODP tournament is June 28-30 at Ankeney Soccer Complex
Read More >
Posted: 2016-05-25
---
Fitness Test for Grade 6 & 7 Referees
Fitness test requirements for Grade 6 & 7 Ohio South referees were updated in July 2016 to comply with the new USSF Guidelines.
Read More >
Posted: 2015-11-12
---
Becoming a New Soccer Referee
2017 Pre-Registration and On-Line Training Information instructions are included here.

The scheduled dates and locations for the summer clinics for new referees are being posted on the "Event Calendar" as they are confirmed.
Read More >
Posted: 2016-01-13
---
Grade 6, 7 & Emeritus Referees - Upgrade and Recertification Requirements & FAQ
2017 REGISTRATION
Read More >
Posted: 2014-08-25
---
2016 Grade 8 Referee Re-Cert Requirements - Mod A & Mod C
Read More >
Posted: 2015-08-16
---
Links Provided by Tony Crush - 2015 Intermediate Referee Sessions
2014 FIFA Video Match Analysis & More - http://tinyurl.com/ht2ka8f
FIFA Match Analysis Considerations - http://tinyurl.com/oq9md52
Posted: 2015-12-16
---
Concussion Awareness Training
Concussion certificates that were completed in the year 2013 will expire in the 2016 registration year. As such, in order to be registered for 2016 a new concussion training certificate will need to be provided to the DRA before recertification can be completed. This does not apply to referees whose certificates were completed in 2014 or later.
Read More >
Posted: 2014-07-08
---
Game Assignments on OSSRC.COM
Go to www.ossrc.com

Click on "Game Assignments"
Read More >
Posted: 2014-03-01
---
7 Reasons To Become A Soccer Official
Check out this article to learn about the advantages of becoming a soccer referee.
Posted: 2014-10-30
---