Welcome to the Ohio South State Referee Committee Website
---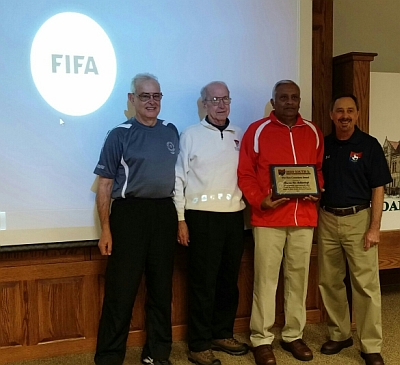 Ken Baldeosingh has been awarded the 2015 Ken Conselyea Award
---
Opportunities for Referees/Assessors to Participate in Regional Tournaments
Read More >
Posted: 2015-03-23
---
Referee Day at the Crew
Sunday July 19, 2015 - 5:00 PM
Read More >
Posted: 2015-03-23
---
Selection of Assignors for State Cup / Presidents Cup
if you an assignor interested in assigning for State Cup and/or Presidents Cup...
Read More >
Posted: 2015-03-18
---
State Cup and Presidents Cup Important Information
Click on Read More below for more information regarding location, referee fees, rules, and assignors...
Read More >
Posted: 2015-02-17
---
Becoming a New Soccer Referee
2015 Pre-Registration and On-Line Training Information instructions are included here.

The scheduled dates and locations for the 2015 clinics for new referees are being posted on the "Event Calendar" as they are confirmed.
Read More >
Posted: 2014-09-07
---
2015 Grade 8 Referee Re-Cert Requirements - Mod A & Mod C
It is mandatory that all returning officials pre-register and complete the appropriate on-line material (Mod "A" or Mod "C") before attending a re-cert clinic.
Read More >
Posted: 2014-12-16
---
7 Reasons To Become A Soccer Official
Check out this article to learn about the advantages of becoming a soccer referee.
Posted: 2014-10-30
---
Grade 7 and 6 Referees Upgrade and Annual Recertification Requirements & FAQ
EFFECTIVE 2015 REGISTRATION
Read More >
Posted: 2014-08-25
---
Concussion Awareness Training
Recently, the State of Ohio has enacted legislation mandating that all referees and coaches in youth games go through a training course on concussion awareness.
Read More >
Posted: 2014-07-08
---
Game Assignments on OSSRC.COM
Go to www.ossrc.com

Click on "Game Assignments"
Read More >
Posted: 2014-03-01
---